The Board of Trustees is responsible for the overall administration of the Trusts and Plans. The trustees are appointed to the board in accordance with the Collective Agreement and the Trust Agreements. The Board of Trustees currently consists of six (6) persons; three (3) persons appointed from UA Local 740's most recently elected Executive and three (3) persons appointed by the Construction Labour Relations Association of Newfoundland and Labrador. While the Board of Trustees retains the overall responsibility for the administration of the plan, they may retain administration staff and professional advisors to handle the day to day operations.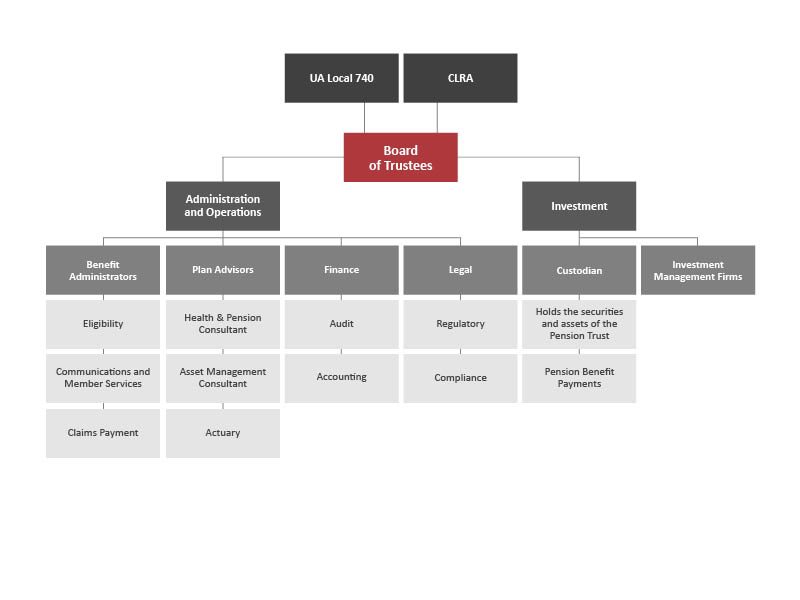 Board of Trustees & Administrator
Board of Trustees
Bob Fiander – Chairman
Bruce Power
Gerard Daley
Chris Bragg
Peter Smith
John Hiscock
Administrator
Third Party Administrator
Manion Wilkins & Associates*
* Manions provides administration assistance for claims payments and pension benefit processing.
A list of our professional advisors can be found under Governance: "Roles & Responsibilities".
Group Benefits Information
RX/Extended Health Policy and Carrier Number
Active/Retired Policy#: 00551000; Carrier#: 07
Card Provider: Express Scripts Canada
Dental Policy and Carrier Number
Active/Retired Policy#: 00551000; Carrier#: 610158
Card Provider: Express Scripts Canada/Manions
Health Services (Paramedical Practitioners) Policy and Carrier Details
Active/Retired Policy #:  00551000;
Carrier:  Manion
Provider:  Telus eClaims
Certificate Number/ID
This number can be found on your card under your name.
Travelling
Emergency Out of Province Medical Coverage is provided through AIG for insured members under age 80, for a trip duration up to 90 days.
In an Emergency, Travel Assist must be contacted immediately: 1-877-204-2017 (Canada & US), 0-715-295-9967 (collect – outside Canada/US).
Group Policy Name: Newfoundland Plumbers & Pipefitter Local 740 Benefit Trust Fund
Policy Number: SRG 9148885
Struggling with Substance Abuse?
The RDTC/NLBTC Members' Trust provides members with a substance abuse and rehabilitation program at no direct cost to the member.
Contact the Plan Administrator, Corey Parsons, for immediate, confidential help: 1-709-832-5116.
Member and Family Assistance Program
Life happens. Let us help.
Your MFAP is a confidential, no cost, support service that can help you find solutions to all kinds of challenges at any age and stage of life.
Call for confidential and immediate support with your work, health and life at:
1-866-448-9444. Visit their website at workhealthlife.com and search: RDTC NLBTC MEMBERS TRUST