Members – please see the below notice from Managed Health Care Services Inc (MHCSI). Those of you that have signed up for the MHCSI Preferred Supplementary Pharmacy Benefits Program will need to update your member profile by July 31st. Please follow the steps in the notice to do the update. Note that once you are logged into your member profile, the requested MHCSI Group and MHCSI ID numbers can be found on your MHCSI Pharmacy Benefit Card. If you require assistance with the update, please contact a MHCSI representative for help: mhcsi.groupadmin@mhcsi.ca or 1-888-686-6427.
If you have not signed up for the MHCSI Preferred Supplementary Pharmacy Benefits Program, no action is required.
If you are not aware of the MHCSI Preferred Supplementary Pharmacy Benefits Program, it is a separate program from UA Local 740's Health Plan. It is available to all UA Local 740 members through our participation with the Atlantic Canada Health Care Coalition Society (ACHCCS). If you enroll in the MHCSI Program, you and your eligible dependents are entitled to coverage of $3.00 per prescription processed through MHCSI's preferred provider network. This benefit applies regardless of whether are covered under UA Local 740's Health Plan. You will also receive the Lawtons Drugs Client Group Partner Discount Card, which entitles you to discounts on front store purchases at Lawtons Drugs. To qualify for this benefit, you must have your prescriptions filled at one of the following preferred pharmacies: Sobeys Pharmacy, Pharmacy at Safeway, Thrifty Foods Pharmacy, Foodland Pharmacy, Fresh Co Pharmacy, IGA Pharmacy, Chalo Fresh Co Pharmacy, and Lawtons Drugs. To enroll, go to www.mhcsi.ca/enroll/ and enter the following:
Group Name: UA Local 740
Group Password: UA69124

As a valued plan member, we are reaching out to inform you that the current MHCSI – Managed Health Care Services Inc. claims adjudication platform will be replaced with an external adjudication service solution in the Fall of 2022. We are excited to partner with ClaimSecure to bring you an enhanced member experience.
As part of the transition to ClaimSecure, MHCSI Benefit and Lawtons Partner Discount Cards will move to virtual cards available on the ClaimSecure Member app and website. More details on the features of the app and website will be communicated in the coming months.
Members are required to update their MHCSI member profile including an email address, by July 31, 2022. Updating your MHCSI member profile takes a few minutes and will avoid any disruption to the administration of your MHCSI Benefit and Lawtons Drugs Partner Discount program. Failure to update your MHCSI member profile will impact delivery of these program benefits after the move to ClaimSecure.
Please complete the below steps by July 31, 2022.
STEP 1:
On your desktop or mobile device, go to: https://mhcsi.ca/memberprofile
STEP 2:
Log in with the below User ID and Password, please note these are case sensitive:
User ID: MYPROFILE
Password: MHCSI2022
Click: [Update your Member Profile]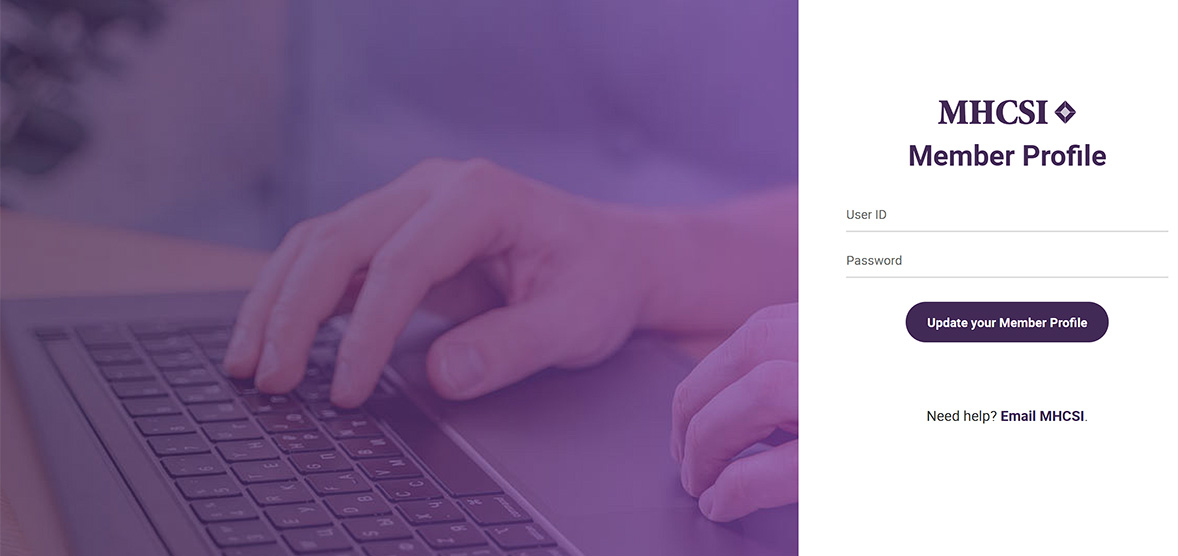 STEP 3:
Please continue to follow the prompts and instructions on the screen to update the information in your Member Profile. If you have any questions during the process, contact an MHCSI representative for assistance by emailing mhcsi.groupadmin@mhcsi.ca or by calling 1-888-686-6427.
Sincerely,
Your MHCSI – Managed Health Care Services Inc. Team www.mhcsibenefits.ca